Back in Durham and desperate to escape. Far to early on a Sunday morning a group of us headed out to Great Wanney. Once people had been gotten out of bed, remembered their shoes and we decided which car to take. The weather was dry, but overcast and slightly chilly. The Sun came out later though. Fun was had.
Johnny decided to force himself up a green slimy slab where Chris followed and got beached like a whale. I just managed to get caked in green stuff.
Rushy still needed needed to be reminded to place gear occasionally, but still raced up a very large number of climbs.
I was then convinced that leading was good idea and I started up 'Squeezy Bill'. The start was more an exercise in placing gear, and the second there was no need to place any at all. I was not going to get out of the crack/chimney in a hurry…
Johnny and Chris then started on some immense route…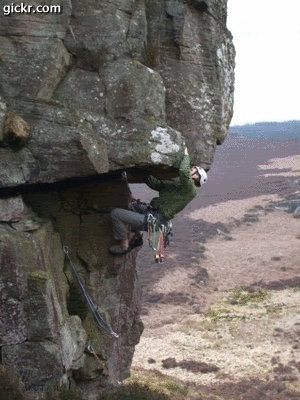 Spurred on by the others I then tried to tackle 'Raven's Nest'…not such a success. I did however get to the top in a fashion and belayed Johnny up, where he gently coaxed the nut that Andy and Rushy had left earlier. Altogether a great day.
Photos: Lindsey, Rushy